2020 Minority Sponsor Grant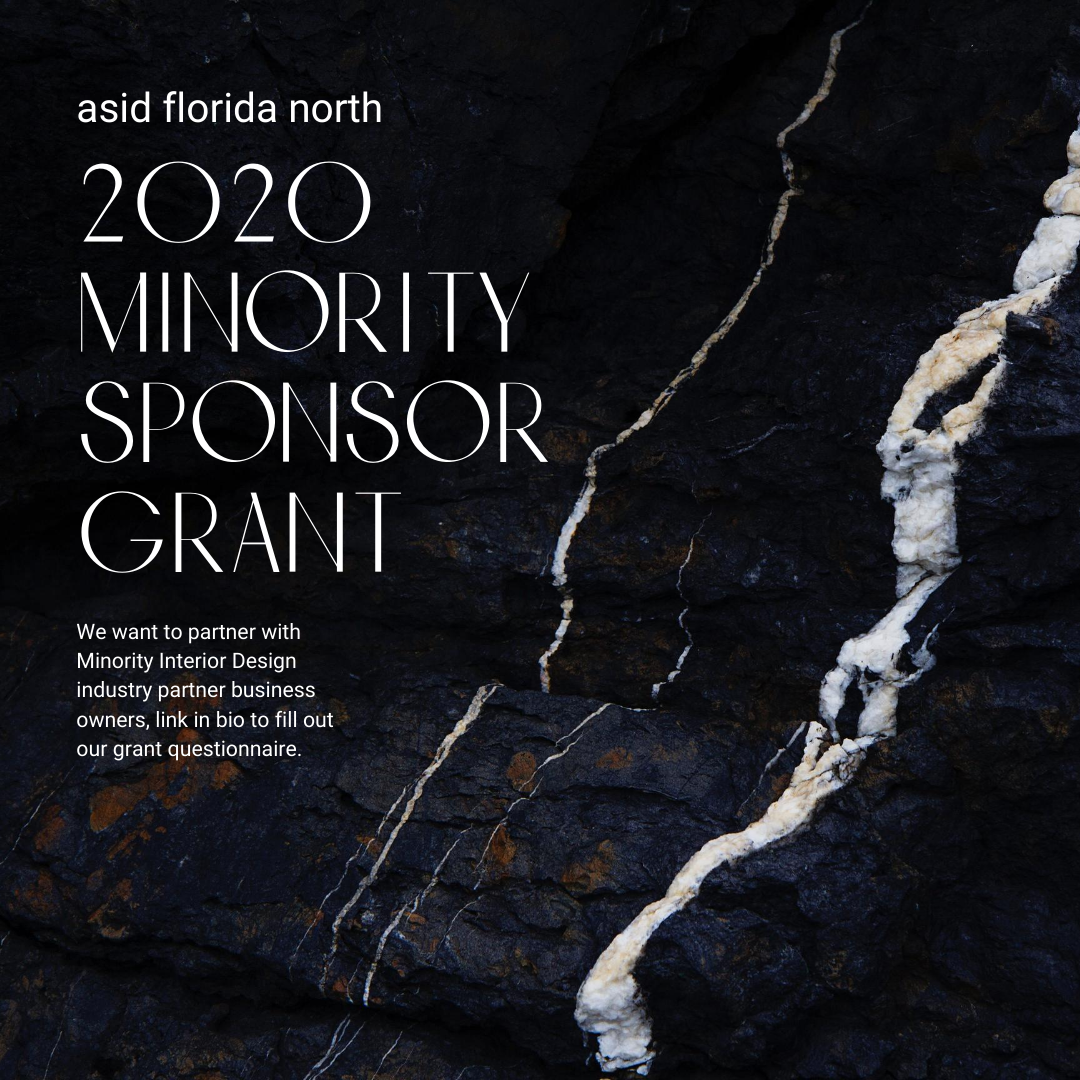 https://forms.gle/fMR71sxnVM241yj59
We want to partner with Minority Interior Design industry partner business owners! If you would like to nominate someone for this grant, please fill out the questionnaire on their behalf and indicate it is a nomination in the "about me" question.
Deadline for 2020 Chapter Virtual Award Ceremony Sponsor: September 15th 2020

Our pledge to you -
• As a regional organization, the ASID Florida North chapter is guided by the pillars of our national association, one of which includes Diversity and Inclusion and provides a "safe space" for everyone.
• We wholeheartedly support the black community and firmly stand against racism and inequality of any kind.
• It is our commitment as a board to implement positive change within our local design communities and continue to work towards greater inclusivity.
From this pledge we plan to:
1. Seek out diverse designers and businesses for CEUs and panels
2. Set up a new sponsorship grant for minority owned businesses
3. Continue to plan inclusive strategies moving forward
-ASID Florida North Board of Directors

Thank you so much for working with us!

Who is eligible?
• Minority owned small businesses and enterprises in the interior design industry, not including practicing interior design businesses
Applications will be reviewed by our Board of Directors and the final grantees will be selected from the applicants.

What are we offering?
Grant of Gold Presenting Sponsorship Level to small business owners to connect with our members and industry partners. $500 Value Gold Presenting Sponsorship Level include:
• Vendor Provided Social Media Video of company/product Showcase
• Qty. 2 - Virtual Design Community Events/CEUs/Virtual Materials Library
• Qty. 2 - Social/E-Blasts for Design Communities with Logo
(Value: Email your Design Community: $100 Industry Partner/$300 Non-Partner // Email the Chapter: $400 Industry Partner/$800 Non-Partner)
• Qty. 2 - Additional Social/E-Blasts
• Award Gift Basket Contributor

To download our sponsorship packet with more details: https://fln.asid.org/chapter-sponsorship/2020

Please email Ariel at president-elect@fln.asid.org if you have any questions!