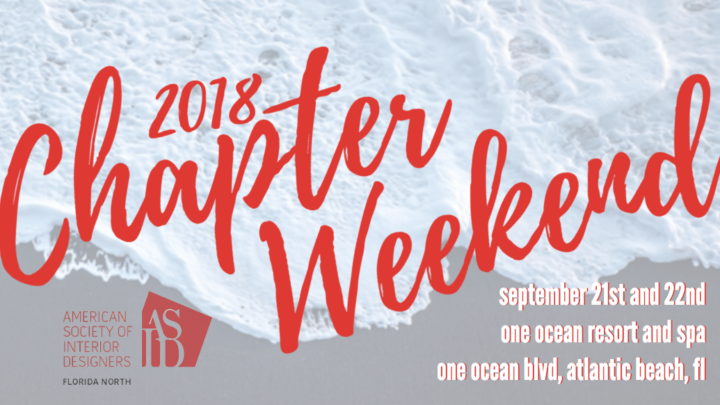 ASID Florida North Chapter Weekend 2018
Description
Schedule of Events
Friday, September 21st 2018
2:30pm - 4:00pm - Registration
1:00pm - 3:00pm - Sherwin Williams Student Summit: Design Studio Crawl
3:00pm - 5:00pm - Florida Building Advanced Codes - .2 HSW
3:00pm - 5:00pm - Sherwin Williams Student Summit: Student Sessions & Mentorship Meet-up
6:00pm - 7:30 pm - Fellows & Flip Flops: Beach Cocktail Hour
Saturday, September 22nd 2018
7:00am - 8:00am - Beach Yoga
8:00am - 1:00pm - Registration
9:00am - 10:00am - Stephen Nobel: "Design Entrepreneurship: Money and Mojo Matter" - .1 CEU - Keynote
10:15am - 11:00am - State of the Chapter Address + Round Table Design Discussion
11:15am - 12:00pm -Sherwin Williams Student Summit: Resume and Portfolio Review
11:00am - 1:00pm - Trade Show Party & Lunch (Show goes from 10:00am - 3:00pm)
1:30pm - 2:30pm - Sherwin Williams Student Summit: Charrette
Join us for our first annual Sherwin Williams Student Summit! Student Members from around the state will compete in this live, onsite design competition during Chapter Weekend. Students have less than 1 hour to determine a design solution and develop a presentation showing their concept for the panel of esteemed judges. Attendees will receive a Sherwin Williams swag bag including a paint deck!
1:30pm - 2:30pm - Wanda Gozdz: "Expand Your Market Reach by Tapping into the Growing Remodeling & New Construction Arena" - .1 HSW
2:45pm - 3:45pm - Jim Nowakowski: "How to Target and Hit the Right Customers" - .1 CEU
4:00pm - 5:00pm - Color & Design Specialist from PPG: "Healthcare" - .1 HSW
6:30pm - 10:00pm - Cocktail Hour / Awards Banquet
Thank you to our Sponsors!
Premier Presenting Sponsor - Westminster Teak
Gold - Sherwin Williams
Silver
About Floors N' More
Ferguson
Legrand
Bronze
Kichler
Martha Graham & Associates
Boral Roofing
Ted Maines
Any Old Stone
Hollingsworth
Control 4
Contributor
Traditions in Tile
Cambria
JAA Architecture
PPG Paint
Print Sponsor
Alpha Graphics
*sponsor levels are still available, purchase HERE online or email communications@fln.asid.org*