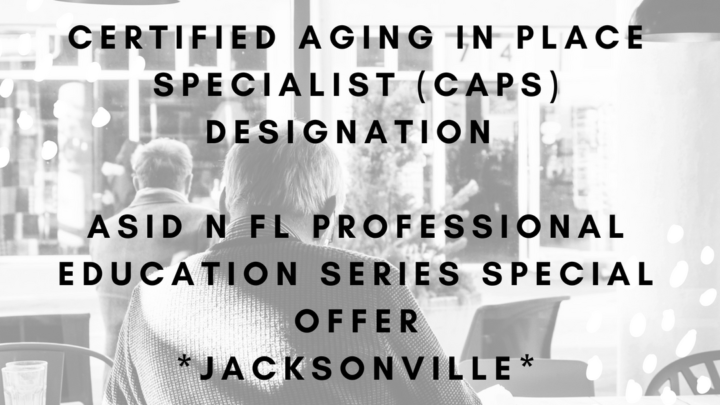 Jacksonville Certified Aging in Place Specialist (CAPS) Designation *ASID N FL PROFESSIONAL EDUCATION SERIES SPECIAL OFFER*
Description
Certified Aging in Place Specialist (CAPS) Designation Course Description
ASID N FL PROFESSIONAL EDUCATION SERIES SPECIAL OFFER
LOCATION:
JACKSONVILLE
The Tile Shop
9357 Philips Hwy,
Jacksonville, FL 32256
JULY 12, 13 & 14
COST: ASID MEMBER: *(CAPS I, $250) (CAPS II, $250) (CAPS III, $250)* = $750.00
COST: NON-MEMBER: $495 each = $1,485.00 total
SELECT LOCATION:
MARKETING AND COMMUNICATIONS WITH THE AGING IN PLACE CLIENT (CAPS I)
DESCRIPTION AND OBJECTIVES OF COURSES IDCEC#106446- .6 GEN
COURSE DATES: Jacksonville: July 12
Millions of Americans are living longer and more active lives. Because they are embracing newly found and changing lifestyles, they need to revitalize their home environment. Identifying this burgeoning opportunity and then developing the skills to interact with this market can help you grow your business dramatically. This course equips participants with the knowledge and tools to effectively market and sell services to the aging-in-place (AIP) market. As a graduate of this course, you will be able to: • Identify access points and marketing opportunities within targeted AIP market segments• Explain how allied professionals can collaborate effectively to serve a targeted AIP market. • Identify common challenges of functioning in a real-world environment for the AIP population. • Enhance the client consulting process with effective needs assessment and communication techniques.
DESIGN CONCEPTS FOR LIVABLE HOMES AND AGING IN PLACE (CAPS II)
DESCRIPTION AND OBJECTIVES OF COURSES -IDCEC#106451- .6 HSW
COURSE DATES: Jacksonville: July 13
To help home owners make their home a safe and comfortable living environment for the long term, many responsive and innovative products are emerging and service providers are focusing their businesses on creating new homes and renovations that provide design flexibility, pleasing aesthetics, high function and usability for all people, without regard to age, income or ability level, and regardless of life's changes and challenges.
This course enables participants to identify common challenges and understand attractive design concepts that create a safe and comfortable environment for clients who want to age in place (AIP) as well as individuals who have a condition that requires home modifications or special equipment. As a graduate of this course, you will be able to: • Identify special considerations for estimating, scheduling and executing livable home and AIP jobs while the client is in residence. • Consider contractual and legal concerns for building professionals providing design solutions to the Aging in Place client. • Identify legal and contractual considerations for building professionals providing livable home and AIP design solutions for residential clients. • Describe the categories of design and how they relate and apply to the three AIP market segments. • Describe specific design concepts for the livable home and AIP client. The course presents various methods and techniques for modifying home design, from the perspective of new construction and retrofitting.
Details and Solutions for Livable Homes and Aging in Place (CAPS III)
DESCRIPTION AND OBJECTIVES OF COURSES IDCEC# 106748- .6 HSW
Course Dates: Jacksonville: July 14
This course builds on the CAPS II course (which is a highly recommended prerequisite to this course) by introducing design solutions and techniques for professionals whose clients require specialized design and equipment to live and thrive comfortably in their homes. Whole house product specification and installation techniques will be covered accompanied by practical, hands-on activities. By completing this course, participants will be able to: • Describe the challenging nature of design for aging in place projects. • Identify available innovative and specialized products.• Explain best practices for design and installation of key components in AIP home design.• Describe the importance of budget and early product selection• Identify common mistakes for design and installation of AIP solutions survey.
REGISTER ONLINE & AND AN ELECTRONIC INVOICE WILL BE SENT FOR PAYMENT
www.goldenageliving.com REGISTER HERE
GO TO COURSE CALENDAR, SELECT MONTH_SELECT DATE; SCROLL TO BOTTOM OF THE PAGE; SELECT REGISTER HERE; AN ELECTRONIC INVOICE WILL BE SENT TO YOU FOR PAYMENT.
*MUST REGISTER UNDER ASIDNF CODE, DISCOUNT WILL BE APPLIED AT INVOICING.*